When you picture your dream home, what do you see? Chances are, no matter the style of home, you picture it in the midst of beautiful landscaping. That's because a lush, green lawn makes any home look more picturesque. Bermudagrass is one of the most popular turf varieties across much of the United States. If you're interested in buying Bermuda sod for your lawn, read on for helpful information.
SOME HISTORY AND FACTS ABOUT BERMUDAGRASS
Bermudagrass is popular all over the world. Despite its name, "Bermuda" grass, it actually originates from different areas of Asia, Africa, Australia, and Southern Europe. But its popularity isn't some new trend – there are documents showing Bermudagrass as one of the principal grasses in the Southern United States since 1807! Nowadays it is one of the most popular warm-season grasses due to its look, feel, and durability.
Bermudagrass is found throughout the southern two-thirds of the United State,s as it thrives in warm weather climates. This variety of turfgrass grows best through periods of high temperatures, mild winters, and moderate to high rainfall. TifTuf Bermuda is a hearty and beautiful Bermudagrass, perfect for areas requiring the most drought tolerance grass. TifGrand Certified Bermudagrass grows exceptionally well in most of the "sunbelt" region of the country and is proven successful into areas in the mid-Atlantic region.
In warm frost-free climates, Bermudagrass remains green throughout the year, adding to its popularity. However, growth is significantly reduced at the onset of cool nights in the late fall. This grass grows best in places where the average daily temperatures are above 75 degrees Fahrenheit. The optimum daytime temperature for Bermudagrass is between 95 degrees and 100 degrees F.
BUYING BERMUDA SOD FOR YOUR LAWN
When should I buy Bermuda sod?
The best time to plant Bermuda grass is during spring, after the final frost. While Bermuda sod can be laid out throughout the year until the ground starts to freeze, for best results it should be laid out from mid-March to November.
Like other warm-season grasses, the seed germinates best when the soil remains above 65 degrees Fahrenheit. As a general rule, look for air temperatures that remain above 80 degrees during the day.
After installation, you should water your Bermuda sod at least 2 times daily for the first 2 weeks. This will keep the soil moist and encourage root growth. Finally, fertilize your Bermuda lawn 4 weeks after installation.
Where can I buy Bermuda sod?
Most home and garden retailers will carry Bermuda sod. However, before buying Bermuda sod for your lawn, consider time of year, region, and the sod farm it comes from. It's best to go with a trusted turf specialist who will know your region and climate needs.
The Turfgrass Group is the premier source for exclusive turfgrass cultivars at the cutting edge of turfgrass technology and engineering. We've developed alliances with the private sector and university breeding program. Thus, The Turfgrass Group licenses the production of one of the finest collections of superior "value-added" turfgrass varieties available in the world. We have a network of growers across the country who are fully equipped to assist with your Bermuda sod needs.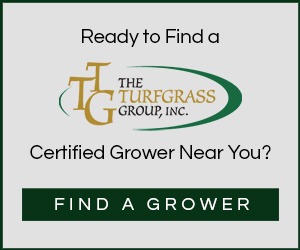 PREPARING YOUR LAWN
Do I need to put topsoil down before sod?
Yes, you do need to add topsoil before laying sod. Especially if your existing topsoil is less than 2 inches deep and the soil below is mostly clay or sand. Sod will struggle to root in extremely sandy or clay soil, so adding topsoil will help your grass flourish. It will also help you even out the surface of your future lawn.
Can you lay sod over existing grass?
No! You cannot simply lay sod on top of grass without doing proper preparation. All sod must make soil contact to be able to root. In fact, laying fresh sod over an existing lawn is no shortcut and could kill your sod and cause you twice as much work. Removing your old lawn before laying new sod is crucial for a healthy root system. Removing your old lawn before laying new sod is crucial for a healthy root system.
Therefore, you should plan to bring in dirt and put it on top of your old lawn before laying the new sod. And that only works if the existing lawn is fairly sparse. If you have a thick lawn, you will likely need to dig it up before adding dirt and topsoil. New sod goes on top of the dirt and topsoil.
WHAT TO EXPECT FROM YOUR BERMUDA SOD
How long does Bermuda sod take to root?
One of the benefits of laying Bermuda sod is how quickly you will see results! New sod should root within 10-14 days of application. This is also when you should mow your new lawn for the first time after laying sod.
Additionally, to help fertilizer reach the new roots deeper beneath the surface of the ground, you should aerate your lawn about six months after laying new sod. Regular aeration will also prevent soil from becoming compacted, which can prevent moisture and nutrient absorption.
How long should you water new Bermuda sod?
For the first nine days of establishment, you will need to water your Bermuda grass twice a day. It's best to do this once in the morning and again in the evening, for about 20 minutes each. Starting on day 10, you can reduce your watering schedule to once per day.
After two weeks you can further reduce this to once every other day. Around day 16 you can cut down to about one inch of water per week. One of the benefits of buying Bermuda sod for your lawn is that long-term this turf requires very little water.
TIPS FOR BUYING BERMUDA SOD FOR YOUR LAWN
Is sod or seed better?
When it comes to installation and establishment, Bermudagrass is easy to grow. You can establish it from sod, plugs, or seed pretty easily. Bermuda seeds take about 7 to 10 days to germinate. They'll need another 60 to 90 days to get fully established. If you are covering a large lawn or a turf, it may take a year to fully cover the area. Sometimes even longer! Additionally, grass grown from seed may not be very dense and uniform. Therefore, if you're looking to establish your lawn quickly, sod is a much better choice than seed.
Meanwhile, Bermuda sod can be laid out in pre-cut rolls. Sort of like installing lush, green carpeting! Unlike, grass grown from seed, Bermuda sod will almost immediately give you dense, full coverage. It can take just 2 to 3 weeks to fully establish an average lawn.
When buying Bermuda sod for your lawn, you have a few options. Sods come in rolls of 10 square feet each, pallets, or smaller pieces of about 3 square feet each. Which option is right for you will depend on your property and how much space you have to cover. The sod will quickly take root in the lawn to produce dense and lush green coverage. While Bermuda seed can be sowed only from mid-May to mid-August, Bermuda sod can be laid out throughout the year until the time the ground starts to get frozen. This makes installing sod a much more convenient option, as well.
Conclusion
Buying Bermuda sod for your lawn is a great way to jump-start your turf. When you start with a thick, healthy lawn, it will be easier to maintain. For more information on Bermuda turf and how to maintain it, check out this article. And when you're ready to get started on a beautiful lawn, give us a call at The Turfgrass Group!