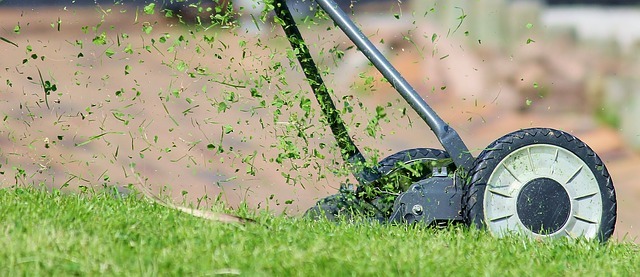 The key to unlocking a beautiful lawn is regular lawn mowing and yard maintenance. But while there isn't a magic wand you can wave to get the job done, there are some simple tips. Read on for our cheat-sheet version to getting a lovely lawn!
Lawn Mowing and Yard Maintenance
When it comes to keeping your yard in great shape, there are some basic steps to follow. Mowing is an important part of keeping your lawn healthy. But did you know there is a right and wrong way to do things? We created a quick cheat sheet with 5 tips for mowing your lawn.
Keep Your Mower Blade Sharp
At the beginning of the spring growing season, be sure to inspect your lawnmower blades. You want to keep them clean and sharp! That's because a sharp cutting blade makes your lawn look great and helps keep your turf healthy. If the mower blades are dull or nicked, mowing will smash the edge of the grass blade. This will leave a torn end rather than a clean cut. Torn grass is more susceptible to temperature changes and turf diseases. And it just doesn't look as good!
Set Your Mower High
Raising the height of your lawnmower can be beneficial in many ways. In fact, it promoteslush green looks and also protects your turf from being overrun with weeds. Perhaps the greatest benefit to setting your mower high is that it generally promotes healthier grass growth. Thus, you will benefit from less watering and reduced need for fertilization.
Mow a Dry Lawn
The bestlawn to mow is a dry one! When moisture from rain or the morning dew weighs grass down, the blades bend, making a straight cut difficult. Additionally, you can slip on wet grass, and the clippings tend to clump and not spread evenly. As a result, disease can spread quickly from these clumpy and moist environment.
Vary Your Mowing Pattern
Each time you mow, vary your mowing pattern by going in a different direction. If you always cut your lawn using the same pattern, your grass will start to lean in the direction you mow. In fact, you may even end up with unattractive ruts in the lawn! Avoid this mistake by trying different patterns.
Circling is an easy and efficient pattern to use when mowing your lawn. After mowing the edges, just keep making passes in a circular pattern until you make your way to the middle of the yard. Another simple pattern that many people find easy to accomplish is mowing in rows. Mowing in a checkerboard pattern can also leave an attractive finish to your lawn. Have fun and mix it up!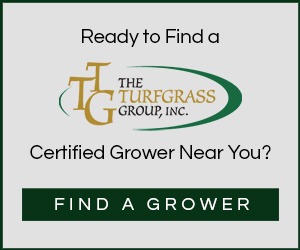 Don't Mow on a Schedule
This tip requires paying a bitmore attention to your lawn. Instead of designating a specific day to mowing, pay attention and choose the best time to mow. However, this does not mean you should neglect your lawn! Rather, mow as often as needed for your grass type, growing conditions, growth pattern, and season. If you try to adhere to some arbitrary schedule, you won't be mowing when your lawn actually needs it.
Lawn Mowing and Yard Maintenance by Season
Most people think of summer as the ideal season to care for your lawn. However, lawn mowing and yard maintenance are chores that needs to be looked after all year round. In fact, as the weather changes, different tasks need tending to keep your lawn in great shape.
We created a seasonal cheat-sheet to help you plan out the ideal times to tend to various aspects of yard work. Using this seasonal calendar, you can determine the optimal timing for jobs such as lawn feeding, seeding, mowing, and raking.
Spring
Spring is the season of preparation and new growth! Keep on top of mowing and feeding your lawn to make your grass stronger and greener. Read on for specific tips and tricks to optimmize your uardcare this season.
Mow
Mow regularly (using the tips above!) and avoid cutting more than ⅓ of the grass blade at a time. The goal is to maintain an even lawn height.
Rake
Remove any twigs or leaves that have accumulated on your lawn over the winter. This will make way for the next step: feeding your lawn!
Feed
Spring is the time to apply a high-quality, slow-release fertilizer. This will help your grass grow thickened and greener. Chec the forecast and apply your lawn fertilizer when rain is forecasted, or when the ground is moist.
Seed
Start your growing season on the right foot by sowing new seeds into bare spots in your lawn. If you have extensive damage from a lack of maintenance in the previous year(s), consider installing new sod. When you install new sod, you are starting fresh with a beautiful lawn! Just make sure you choose a variety of turf that's well suited to your climate and property.
Summer
Summer is peak lawn-care season! This is when your lawn will really 'shine' and will be the centerpiece for your backyard gatherings.
Mow
Avoid cutting the grass too short during hotter weather as it may cause the grass to lose vital nutrients. Mow only as needed, and leave grass clippings on the lawn to add nutrients back into the soil.
Water
Water correctly will make a huge difference in maintaining a healthy lawn. You should water your lawn in the early morning to allow time for the water to soak up before the heat of the day evaporates it. Here are some more tips on how to water your lawn efficiently and properly.
Feed
How to best fertilize your lawn in the summer depends a lot on the weather. In a cool, wet summer, apply fertilizer and moss killer in the late spring/early summer. If you're expecting a warm, dry summer, apply additional fertilizer to make up for nutrient breakdown.
Autumn
Falling leaves may be fun to play in, but leaving them on your lawn for too long is problematic. Read on to see what you need to do to maintain your lawn as the weather cools.
Aerate
The soil in high traffic areas, such as play areas, can become compacted from frequent use. This can result in drainage issues and prevent vital nutrients from reaching the grassroots. Aerate the lawn in the fall to give your lawn a breath of fresh air!
Rake
Leaving a thick layer of leaves on your lawn will promote lawn disease and weaken the grass. You can prevent this by removing dead moss and thatch using a lawn rake.
Mow
Time for the last cut of the year! Since your grass won't be growing much over the cooler months, you can leave the grass slightly higher than usual.
Feed
Use a special autumn lawn fertilizer that is high in phosphates and potash. This will keep your lawn well-fed through the winter.
Winter
Winter tends to be a quiet time for your lawn. Since there won't be as much physical yard work for you to do, it is a perfect time to focus and plan ahead.
Protect
Protect your lawn in the winter by avoiding heavy traffic, especially when frost is present. At the end of the season, clear any toys or lawn furniture off your lawn, as well, giving your lawn some time to rest and recover.
Sweep
Keep an eye on your lawn and sweep the surface once in a while. This way you will clear fallen leaves and debris and keep them from smothering the lawn.
Note
Take note of any puddles of water. These puddles indicate compacted soil and will need aerating in the spring. You should also take note of any areas that look damaged or bare and will require re-seeding in the spring. If your lawn suffered greatly, now is a good time to plan for new turf installation.
The Bottom Line on Lawn Mowing and Yard Maintenance
When you give your lawn time and attention you will be rewarded with a great-looking yard. These tips and cheats will help you keep your lawn in wonderful condition all year!