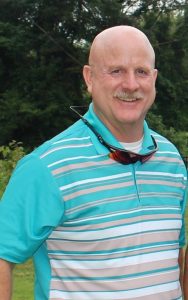 After garnering 25 years of turfgrass and sod-production experience at Turf Mountain Sod in Hendersonville, NC, David Bradley has now joined The Turfgrass Group.
"We are thrilled to welcome such a knowledgeable, well-respected professional to our company," said Aaron McWhorter, co-owner of The Turfgrass Group with Ken Morrow. "Through devoting most of his career to helping build and manage a successful sod-production operation, David knows just about every aspect of what our producers deal with on a day-to-day basis — equipment, fertilizers, pesticides, labor, trucking, logistics, sales and marketing. Like us, David does 'farm speak' because he's been a farmer for so long. It's simply who he is."
A former president of the North Carolina Sod Producers Association, Bradley currently serves as a board member of the North Carolina Turfgrass Council and as president of the Western Carolina Horticulture Alliance. He holds a commercial pesticide license and a CDL with hazardous material endorsement. Bradley is also a North Carolina Certified Turfgrass Professional and a North Carolina Licensed Landscape Contractor.
"David is a dedicated, relationship-driven person with a positive attitude and a servant's heart," said Bill Carraway, vice president of marketing for The Turfgrass Group. "With his exceptional interpersonal skills, he will focus a great deal of his time on customer care for The Turfgrass Group. We feel certain that David will quickly become an invaluable member of our team."
Born and raised in Hendersonville, NC, Bradley is a tenth-generation farmer. After earning the rank of Eagle Scout in 1977, he attended Appalachian State University and the University of North Carolina Asheville, where he studied marketing and management. He and his wife Linda reside in Hendersonville, NC, and have two grown children, Luke and Sara.