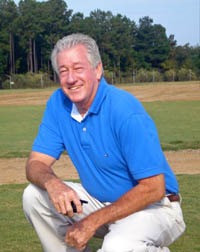 Larry Johnson
Larry Johnson was born in Houston County Georgia. There he attended Perry Schools, where he was active in 4H and The Future Farmers of America (FFA) programs. While serving as Vice President in FFA, he was awarded the prestigious, American Farm Degree in Kansas City.
In 1963 Larry followed his interest in Agriculture and entered Abraham Baldwin Agriculture College in studies of Agronomy and Plant Science. After College, Larry enlisted in the United States Army and in 1968 served in Vietnam during the Vietnamese offensive.
Upon his return home, Larry married his wife of 40 years, Linda. They have two children, Lezlee and Lance, all being a part of the family farm, that he came back to be a part of. During this time, Larry was active in the Houston County Farm Bureau serving on the Board of Directors for many years, as well as a two term President of that organization.
In 1986 Larry sold the family farm and entered the turfgrass industry with Patten Seed Company, one of the largest sod and seed production companies in the Southeastern United States. There, Larry garnered over twenty years experience in both sod and seed production, marketing strategies and management of turf farming operations.
2006 brought on new horizons, becoming an integral part of quality assurance and service provided by The Turfgrass Group family. Serving as General Farm Manager, Larry is responsible for all Foundation, Registered, and Certified turfgrass production of the TTG cultivars. These include the much sought after licensed varieties TifBlair Centipede, Zeon and JaMur Zoysiagrass, as well as our production cultivars, TifSport Bermuda and Meyer Zoysia.